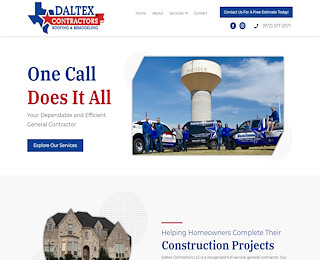 If you are thinking of a partial remodeling of your house, with the help of a Plano roofing contractor, we at Daltex Contractors are ready to help. We can help not only with your roofing works but also with complete services, including guttering, or de-icing and snow prevention systems.
Which roofing material is the best?
Concrete and slate tiles are by far the longest lasting materials when it comes to roofing, outperforming natural materials like wood. Even though in recent years shingles manufacturers developed aluminum and asphalt shingles with a substantial lifespan, they will not be as durable as concrete or slate.
On the other hand, you must consider the initial cost when deciding on the material you want to use for your roof. With asphalt, the lifetime will be 20 - 25 years at the price of approximately $15 per square foot. A slate or concrete roofing will cost you roughly $40 per square foot, adding 100 more years to your roof's lifespan.
Before deciding on the material, you should consult with a professional Plano roofing contractor. He will advise if your attic structure can sustain a heavier material like concrete or if you should go for a lighter option.
Is a new roof a good investment?
Unless your roof is presenting some visible damages or is leaking, you may not need to replace it immediately. A new roof will come off as a major investment, but the benefits are also substantial and worthy of consideration:
Energy savings - a professionally installed roofing system will help you reduce your energy bill and will make your home feel more comfortable. Most of the roofing tiles used today are increasing the heat deflection during the hot summer days.
Comfort level - a well maintained and dry insulation will reduce the heat transfer with the outdoor, keeping the temperatures in your home stable and comfortable.
Return on Investment (ROI) – estimates show that ROI will be at approximately 70% on a new quality roofing system, meaning that you will recover 70 cents on each dollar spent when selling your house.
Safety and security – an old roof presenting water leakage may pose a health risk due to potential mold and mildew growth.
Aspect – you should not neglect the home warming effect a beautifully looking and expertly constructed roof can add to your home.
Warranty – a good warranty provided by your new roof is an added value when selling your home.
How long does it take to change a roof?
If you are using a professional Plano roofing contractor, it should typically last 2 or 3 days to change your roof. However, if we have to replace some moldy or rotten beams, the job may last several extra days.
We, at Daltex Contractors, will inform you in advance on the problems we identified and on the expected project execution time. We will also ensure accurate and timely communication during the project, to reduce the stress created by your house restoration project.
Daltex Contractors
9725172571
1225 Chandler Circle, Prosper, TX 75078
View Larger Map